Interpret China
This two-week program for independent students commences with 5 days on a private school campus where you help teach english as a second language to Chinese students.
Chinese will be useful, but is not required.
The following 8 days you travel to four cities of significant historical, political, cultural, scientific and/or scenic interest: Beijing, Xi'an, Hangzhou & Shanghai.
This program provides a wonderful opportunity to develop friendships with english-speaking students in China, to visit four very different cities, and to develop your Chinese language skills (even if you arrived with none!).
Introduction
We organize a handful of programs each year for independent high school students.
(Independent students are those traveling without their teacher.)
Each program is staffed with a US-based Program Director and an assistant.
Just like our regular programs, we take care of all the logistics:
Flights
Accommodations
Breakfasts and Dinners
Ground Transport
Local Guides
Entrance Fees
Gratuities
And, just like our regular programs you can pay in easy monthly installments.
Eligibility
Summer Programs are open to high school students and recent graduates.
College student? Ask us about our College Programs.
Availability
We limit enrollment on each program to between 8 and 12 students.
Students travel with a Program Director and assistant.
Assembly Airports
We arrange group flights from the following airports:
New York
Boston
Chicago
Los Angeles
Houston
Pick whatever one is most convenient for you.
Local Connections
We can arrange flights to/from your preferred Assembly Airport and include them in your monthly payments.
Enrollment & Payment
Enrollment can be completed online at studentslovetravel.com/enrollment.
You can pay in monthly installments by check or credit card (using Paypal).
Cancelation & Refunds
Comprehensive Travel Insurance provides the following benefits:
Pre-Departure Trip Cancelation
100% of the cost of the trip if the insured cannot travel
(this covers cancelation due to sickness or emergency).
Post-Departure Trip Interruption
Up to 150% of the cost of the trip
(this covers interruption due to sickness or emergency)
Travel Delay
Up to $100 per day
Medical Expenses & Emergency Assistance
Up to $25,000 in Medical Expenses and $50,000 in Emergency Assistance
(Includes 24-hour on-call assistance service)
Baggage & Personal Effects
Up to $1,000 per day
(this covers anything which is lost or stolen while traveling)
Cancel for ANY reason
Up to 75% of the cost of the trip, no questions asked.
(just in case you change your mind)
Itinerary
Day
City
Highlights
1
Airborne
Start your journey to the other side of the world!
2
Private School
Arrive in China and board your private shuttle bus for a transfer to the school campus where you'll stay for the next few days.
3
Private School
Spend the day with Chinese students (Immersion Day 1)
4
Private School
Spend the day with Chinese students (Immersion Day 2)
5
Private School
Spend the day with Chinese students (Immersion Day 3)
6
Private School
Spend the day with Chinese students (Immersion Day 4)
7
Private School
Spend the day with Chinese students (Immersion Day 5).
Take the fast train to Hangzhou.
8
Hangzhou
Rent bicycles and spend the morning riding around the West Lake with your friends, enjoying it's beautiful bridges, causeways, and pavilions. After lunch board the ferry for a ride to the Grand Canal Museum Zone. Interact with local artists as they create folding-fans, umbrellas, pottery, embroidery, swords, knives, scissors. Make your own oil-paper umbrella then head back to the hotel and freshen up for dinner at Zhangshengji.
9
Hangzhou
Board your private shuttle. Spend the moorning exploring Hangzhou's Buddist Heritage at Fei Lai Feng (Peak flown from afar), Lingyin Temple and Six Harmonies Pagoda Six Harmonies. Enjoy lunch and learn about Dragon Well tea at the Meijiawu Tea Plantation, then visit the Hangzhou Silk Museum. End the day enjoying the beautifully choreographed performance of "Impression West Lake".
10
Tongli
Board shuttle for the ride to Tongli Ancient Town ("Venice of the east"). Enjoy lunch at a tea house then explore the town's canals, bridges, alleys and villas with your friends. End your day in Tongli with a gondola ride along the canals, then continue to Shanghai. Check into hotel, freshen up, and then head out to dinner on East Nanjing Street. After dinner walk along the Bund admiring Pudong's spectacularly lit skyscrapers reflecting on the river.
11
Shanghai
Metro under the Huangpu river to Pudong for a panoramic view from atop the Oriental Pearl Tower before exploring the Shanghai History Museum. Metro back to the Yuyuan Gardens for lunch and shopping, then over to the People's Square for an afternoon exploring the Shanghai Art Museum. Dinner on the Overnight Train to Xi'an.
12
Xi'an
Board shuttle for a ride out to see Emperor Qin's Terracotta Army before unch, then shuttle to Mount Lishan Forest Park. Take the chairlift up then follow the trail back down the mountain taking in the panoramic vies, crossing rope bridges, and passing through beautiful pavilions. Emerge at the Huaqing Hot Springs made famous by the love story of Yang Guifei. Dinner, then enjoy the awe-inspiring evening performance of "Song of Eternal Sorrow" before ending the night with a stroll through the night markets of the Muslim Quarter.
13
Xi'an
Enjoy the views of old Xi'an on a bicycle ride with your friends along the top of the city's defensive walls. Enjoy calligraphy lessons at the Great Wild Goose Pagoda. Lunch and then admire the stone rubbing at the Beilin Museum before haggling in the nearby markets. Dinner on the Overnight Train to Beijing.
14
Beijing
Board shuttle for transfer to Forbidden City. Enjoy a guided tour of the Forbidden City then spend some time exploring with your friends. Climb Jingshan Hill for panoramic views of Beijing before enjoying lunch in the hutongs. Relax in Beihai Park then take the metro the hotel to freshen up. Shopping on Wangfujing street followed by Mongolian Hot Pot dinner.
15
Beijing
Navigate to Tiananmen Square for the dawn flag raising ceremony. Breakfast at the hotel. Board shuttle for a ride out to the Great Wall of China. Climb the stairs up to the top of the wall, stroll along the top between some of the watchtowers, take in the views, and toboggan back down! Lunch, then board shuttle for ride to the Summer Palace. Enjoy the cool breeze from the lake as you explore the many halls, pavilions, gates, and gardens within the grounds. Subway from the Summer Palace to the hotel and freshen up for farewell dinner - Peking Duck! End the day with a sunset stroll through Olympic Park to see the "Bird's Nest" and "Water Cube" lit up at night.
16
Airborne
Flight from Beijing. Zài jiàn China!
Printable Itinerary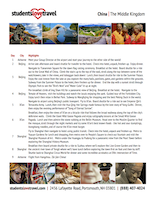 Information Request
Want to learn more? We'd love to send you an information packet.
Please complete this form...