Montreal & Quebec: Classic
Montreal, second only to Paris in the ranks of French-speaking cities, is the cultural capital of Quebec. We will explore Old Montreal and take excursions to Pointe-St-Charles, Parc Mont-Royal, and Parc Olympique. Highlights include: Climbing Mont-Royal; Tours of the Basilica and Maison Sainte Gabrielle; Pointe-à-Callière Archaeological Museum; Riding up the Olympic Tower; The Botanical Gardens; and à la carte dining at some fabulous restaurants!
Quebec City is one of the few historical areas in North America to have fully preserved it's Francophone culture. Its European feel, history, culture and warmth have made it a favorite destination for French students. Our trip explores the fortified Old Quebec historical district, at the heart of the city with highlights including: Place Royale; Tours of the Citadel, Ursulines Convent, and Old Common Gaol; the Funicular; and dining à la carte at some of the best restaurants in Old Quebec for breakfast and dinner.
Round-trip flights or round-trip ground transit to Quebec are included.
A generous budget is included for à la carte dining at your group's preferred restaurants. For breakfast we recommend Casse-Crêpe Breton (on Rue Saint-Jean) and Le Cochon Dingue (on Rue Petit Champlain). For dinner we recommend Café Cosmos or Le Grand Café (both on the Grand Allée), L'Accent (on Rue Saint-Jean in the Upper Town), Le Lapin Sauté (on Petit Champlain in Lower Town), and Café du Monde (down in the Old Port District). Our itinerary below uses the most popular restaurants.
Itineraries
6 Day (Overnight Motorcoach)
| Day | Highlights |
| --- | --- |
| 1 | Embark for Quebec on our luxury motor coach. |
| 2 | Arrive in Old Quebec City and check into Le Château Frontenac overlooking Place de l'Hotel de Ville. Hearty breakfast of Breton-style stuffed Crepes at Casse-Crêpe Breton. Private presentation on the military history of Quebec Musée du Fort. "La Citadel" - Private tour of the largest British Fortress built in North America and home of the largest regiment in the Canadian Army. Lunch. "The Military" - Experience life as a French and British soldier during the Battle of Quebec (1759) at the Plains of Abraham Discovery Center. Shopping. Freshen up for dinner at the hip and trendy Café Cosmos on Le Grand Allée. |
| 3 | Hearty breakfast at immensely popular Le Cochon Dingue "The Crazy Pig". "Life as a Convict" - Experience a convict's first day at the Quebec City Common Gaol. "The Young Women's Academy" - Follow the fascinating journey of a young a girl sent to the Convent of the Quebec Ursulines for a boarding education. Lunch/Shopping. Board coach for a ride out to the Repousée workshop at Albert Gille's Copper Museum in Beauport. Guided tour of Saint Anne of Beaupré Basilica. Walk across the pedestrian suspension bridge over the Montmorency Falls. Choose between a Sugar Shack Evening in the woods outside Quebec or dining in Old Quebec. Old Quebec Ghost Tour |
| 4 | Breakfast at Bistro Le Trois Garçons. Check out of Le Château Frontenac and embark for Montreal. Ascend Le Tour Olympique for a panoramic view of Montreal, then visit the Biodôme, Botanical Gardens, and Insectarium. Visit Maison Saint Gabrielle at Pointe-St-Charles for an introduction to the King's Daughters. Check into the Queen Elizabeth. Admire the architecture of Marché Bonsecours before strolling through it. Dinner in the Old Port District. |
| 5 | Enjoy the audiovisual show at Pointe-à Callière Archaeological and History Museum before taking an elevator down into the remains of 17th century Montreal. Climb the steeple and explore the archaeological excavations at Chapelle Notre-Dame-de-Bon-Secours. Lunch at Place Jacques-Cartier. Grand Tour of Basilique Notre-Dame-de-Montreal. Shopping. Dinner in the Old Port District. Embark for home on our luxury motor coach. Au Revoir Québec! |
| 6 | Arrive back at your school. |
Program Fees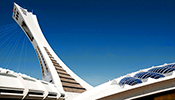 Private Motorcoach
Hotel Clarendon
$750
Château Frontenac
$850
---
Round-trip Flights
Hotel Clarendon
$1,295
Château Frontenac
$1,395
Vieux-Montréal & Vieux-Québec | 5 Days
Round-trip Flights or Private Motorcoach
4-Star accommodations at the heart of the fortified old city
Generous stipends for à la carte dinners and breakfasts.
Teachers travel free (8:1 Teacher Ratio)
US-based Program Directors (24:1 Director Ratio)
Canada-based Guides (24:1 Guide Ratio)
All Entrance Fees, Activities and Gratuities