Our News
This is where we share the new stuff.
Destinations
Itineraries
Activities
Points of Interest
Restaurants
Downloads
Pricing
Invite a friend to help you chaperone, on us!
April 12th, 2022
Hi Everyone!
It is exciting to be busy again, planning trips with teachers who have become friends over the years and with teachers we're meeting for the first time. It reminds us that what we have in common — a love of traveling the world, and a passion for passing along that love to a new generation of students — will transcend everything the world throws at us!
Small Groups & The New Normal
Traveling in a small group has always been the ideal way to enjoy the language, culture, and experience of international travel. Today, the flexibility and familiarity of a small group has added benefits — especially in terms of accommodating public health travel rules.
Exceptional Pricing
Our "think outside the bus" approach to program design takes advantage of public transportation whenever possible to provide our groups with enormous flexibility. Motorcoaches must adhere to a rigid schedule, they're at the mercy of traffic congestion, and the cost per student is based on the number of students in the group. Reducing our reliance on motorcoaches allows us to offer exceptional pricing on private trips for groups with as few as 8 students — and without asking you to join another group.
Peace of Mind
We include Comprehensive Travel Insurance with all our programs at no extra charge, so in the event a participant cannot travel (sickness, injury, etc.) any cancellation penalties will be fully reimbursed. We also offer CFAR (Cancel For Any Reason) Travel Insurance during enrollment for a small fee; this will reimburse 75% of cancellation penalties under any circumstances, no questions asked.
Spring Special — Invite a Friend
From now through June 30th you can invite a SECOND complementary chaperone on your private trip as soon as 8 students have enrolled.
If you'd like to learn more about Students Love Travel, we would be delighted to hear from you. In any case, we wish you safe travels and epic adventures in 2023!
Robert & Peter
Summer Program '21
March 25th, 2021
This year our 9-Day Summer Program is in Costa Rica!
Interested students should attend one of our Online Information Meetings in April.
Our Summer Program trips are operated just like our school trips, but they are open to independent students from any high school, and they're staffed with teachers selected from our Program Director Team.
This year, we think the opportunity could be especially meaningful to graduating seniors who missed out on school trips, but the Summer Program is open to students of all ages.
Please share this information with anyone who might be interested or contact us yourself! Students, parents, and teachers are all welcome to attend.
Looking forward to traveling with you soon…
Robert & Peter
Something totally new: NICE Enrollment Season
November 17th, 2020
Fellow travelers,
We're super excited to announce something entirely new: NICE Enrollment Season.

What is NICE Enrollment Season?
It's the season of no immediate commitment early (n-i-c-e) enrollments, a season with discounts and no deposits or monthly payments.

This is our way of supporting optimistic teachers, students, and parents who are considering a 2022 trip but are (understandably) not quite ready to make a financial commitment. It allows teachers to get a sense of the interest level, it allows us to get a head start on making your bookings, it rewards optimistic students and parents with a generous discount and the group with better flights, hotels, and local guides.
When does NICE Enrollment Season commence/conclude?
NICE Enrollment Season commences January 1st, 2021 and ends March 31st, 2021.
What is the upside?
Students who enroll during NICE Enrollment Season receive a special discount as our way of appreciating their optimism and trust.
Students don't have to make any payments during NICE Enrollment Season, so there are no payments due until April 2021.
Payments are fully-refundable until 6 months before departure, so for a trip in March 2022 all payments are fully refundable until September 2021.
Groups that form during NICE Enrollment Season also have an early mover advantage on flights (the shorter ones with nice departure and arrival times), hotels (the convenient ones right in the heart of the city that regularly book up first) and local guides (they're not all the same, some have an inate ability to connect with young students).
What is the downside?
If you're hoping to take some students abroad in 2022 then we can't think of any reason not to take advantage of NICE Enrollment Season!
Can we help with the approval process?
Absolutely. We came through for all our groups over the past year, and are proud that our reputation for great experiences abroad has been complemented with a reputation for understanding and fairness when things go wrong. Our founders would be delighted to be personally involved in helping you with the approval process, and our regular customers would be delighted to tell you more about their experience with us.
I'm hoping to travel, what's my next step?
If you're hoping to travel in 2022 then let us know! We can chat after Thanksgiving and put everything in place so your students/parents can take advantage of NICE Enrollment Season.
CLICK HERE IF YOU HOPE TO TRAVEL IN 2022!
Thanks for your continued interest in taking students abroad,
Robert & Peter
Why learn French? Because Martinique.
March 27th, 2019
Our first trip was to France, almost 10 years ago.
Since then our French teachers have watched us take their colleagues to Spain, then Puerto Rico and Costa Rica, and most recently Cuba. Our Facebook and Instagram feeds are flooded with students developing their Spanish while enjoying the outdoors - hiking up mountains and through rainforests, climbing waterfalls, exploring sugar and cocoa plantations.
A few months ago a handful of our most loyal French teachers - unknown to each other - requested we take a serious look at Martinique. They'd had enough!
What we found took our breath away. Not only is it extraordinarily beautiful, it's very French. Less english is spoken in Martinique than in France itself, making it a fabulous place for students to hone their French skills. It's also an immensely engaging outdoor classroom for students with an interest in culture, history, nature, wildlife or students who simply enjoy being outside.
If you're a French teacher, we hope you love our itinerary. If you're not, we hope you're really good friends with a French teacher, because they may need a co-chaperone...
(Click the thumbnail below to view)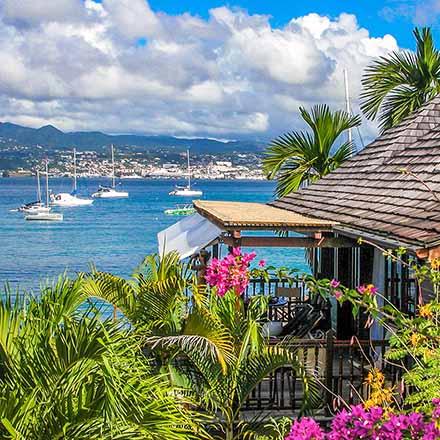 Puerto Rico Rising
May 28th, 2018
Fellow travelers,
It has been eight months since Hurricanes Irma and Maria devastated Puerto Rico, and things are finally getting back to normal.
Recently we traveled to the island to meet with our local partners — hotel operators, transportation providers, and local guides that we've been working with for years. It was a great trip, and we feel very good about bringing students back to Puerto Rico.
Unfortunately, the economy of Puerto Rico was seriously impacted by the hurricane and its aftermath. Many business and families are struggling, and we have decided to help.
We are running our "Puerto Rico Rising" itinerary at cost during the 2018/2019 school year.
We believe this will encourage more school groups to visit Puerto Rico and help our local partners get back on their feet. The itinerary centers around Old San Juan and Luquillo Beach, visiting rain forests, mountain caves, blue beaches, and the bio-bay, and it includes an optional day of service for those who really want to give.
This email address is being protected from spambots. You need JavaScript enabled to view it.
Please email us for more information about visiting Puerto Rico, and thank you for your help.
Robert & Peter
Life on trip: China
January 8th, 2018
Follow a group of students around China on our classic 9-Day Beijing, Xi'an & Shanghai program!

Experience: Iceland
December 13th, 2017
This is how we spend a week in Iceland. Check it out!

Experience: Ireland
December 7th, 2017
This is how you spend a week in Ireland...

Off the beaten track: Rome
November 6th, 2017
What's beyond the Colosseum, Pantheon, Sistine Chapel, Trevi Fountain, and Spanish steps?

Our Story - Printed booklet now available
September 18th - 2017
We now have a beautiful printed booklet that shares our story.